Kidde Safety at Home

There are many hazards within our homes - everyday electrical appliances, gas boilers, cookers and other fuel burning appliances - if left unattended or faulty, they are at risk of spreading fire or releasing carbon monoxide.
As home safety experts, Kidde want to ensure you and your family are protected from the dangers of fire and carbon monoxide poisoning.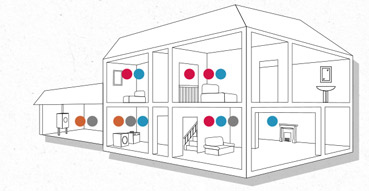 Kidde products are found in homes around the world:
Help keep your family safe by fitting smoke and carbon monoxide alarms
throughout your home and remember to test them monthly.

Q & A
Q) What is carbon monoxide?
A) Carbon monoxide is a colourless, tasteless, odourless gas.
Q) How is it produced?
A) The gas is produced when any fossil burning fuel does not burn efficiently.
It can be caused by inadequately maintained or badly fitted domestic heating appliances such as wall heaters, fires and boilers - and may not be able to escape from the home if the chimney flue is blocked.
Q) Does the carbon monoxide unit detect natural gas if the cooker is just switched on but not ignited?
A) No - a 'standard' carbon monoxide alarm will only detect poisonous carbon monoxide and not natural household gas that may have leaked.
Q) I have inserted the batteries, but the alarm is just making a screeching noise, why is that?
A) Please check that the batteries have been inserted correctly - the top and bottom battery need to have the polarity to the right and the middle one should go to the left.
Q) How do the Carbon Monoxide alarm sensors work?
A) Carbon monoxide alarms use electrochemical sensor technology to sense the air every 15 - 20 seconds. Then, in accordance with BSI 50291 requirements, Kidde alarms meet the following response times;
At 30 ppm, the unit must not alarm before 120 minutes
At 50 ppm, the unit must alarm within 60 - 90 minutes
At 100 ppm, the unit must alarm with 10 - 40 minutes
At 300 ppm, the units must alarm within 3 minutes
CO alarms that meet different 'requirements' may meet slightly different response times.
Q) Where should carbon monoxide alarms be located?
A) Kidde recommend that carbon monoxide alarms should be placed 1.5 metres from the floor providing it is not in dead air space (which is 34cms from any walls, corners or alcoves). Alarms must be at least 2 metres away from any heating appliance to prevent nuisance alarms.
Q) How many carbon monoxide alarms should I have in the home?
A) Kidde recommend one alarm on each level of the home. However, if you are only purchasing one then it is best located near to sleeping areas as you need to be able to hear the alarm at night whilst you are sleeping and would not be otherwise aware of the effects of CO poisoning.
Q) The carbon monoxide alarm has started to chirp, does this mean that the unit has detected carbon monoxide gas?
A) When the unit detects carbon monoxide gas it will alarm at 85 decibels.
Q) Why has the carbon monoxide alarm started to chirp?
A) Carbon monoxide alarms chirp for various reasons - usually it is because the batteries need changing. When the battery starts to run down you will find that it normally chirps in the early hours of the morning when it is coldest. This occurs when the temperature drops as the voltage to the battery automatically drops and the carbon monoxide alarm goes into low battery mode whereby the unit will chirp. When the temperature rises the chirping should stop.
Published on 01/06/2020, Expires 01/01/2023