Marxman Range

Marks a fixing point where your pencil can't!
MarXman is a unique tool designed to quickly and easily mark almost any surface with one push.
Instead of using a drill bit, a bradawl, or sharpening your pencil and searching for the mark you made, MarXman does the job for you. It simply and accurately releases a burst of bright chalk spray, which clearly marks your reference points, making all other marking devices redundant.

Each pen contains 250+ bursts of removable green pigment.
Suitable for brick, metal, wood, pebbledash, porcelain and ceramic.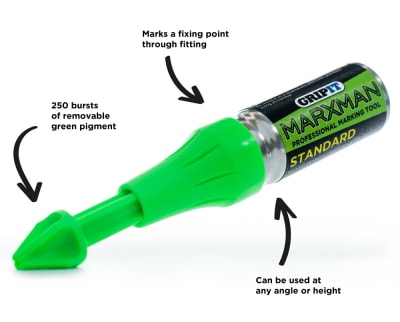 Available in 2 sizes:
Standard: For depths up to 45mm

Deep: For depths between 45mm and 100mm
View full range HERE, alternatively find your local retailer here for more details.
Published on 02/09/2020, Expires 31/12/2021