Wagner Spraytech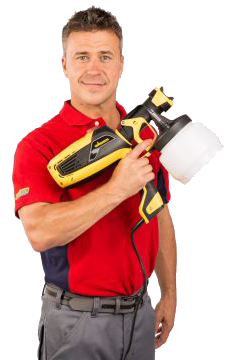 The WAGNER Group is a market leading manufacturer of high-tech products and systems for coating and decorating with paints and powder. Their customers are the industry, contractors and consumers alike.
WAGNER is one of the world's leading manufacturers of equipment and systems for surface finishing with powder coatings, wet coatings, paints and other liquid materials such as adhesives and sealants. The origins of the company go back to 1947. Since then, WAGNER has been setting quality standards and offering industry, contractors and consumers, economical, reliable and user-friendly solutions that offer high-quality and pioneering technology.
The WAGNER Group is represented throughout the world with a workforce of around 1,600 people, 16 companies and 400 agencies. The WAGNER Group is owned by the Josef Wagner Foundations which, in addition to supporting the company, pursue exclusively not-for-profit, charitable goals.
Craig Phillips is the original winner of Big Brother and the brand ambassador for WAGNER. Craig regularly appears on television programmes including, this morning and 60 minute makeover, as a presenter and DIY expert representing WAGNER.
Universal Sprayers - Flexio technology
W590 & W690
Adjustable paint jet to perfectly match the object being painted.
Great for covering and uneven surfaces.
See the features for both sprayers below:
W590 Sprayer
W690 Sprayer
---
Wood & Metal Sprayer
W100

Extra-fine atomisation for uniform paint coverage with
a single coat and fully adjustable paint flow for
precision painting.

See the features below:
W100 Sprayer

---
Fence & Decking Sprayers
2369472
Patented I-SPRAY nozzle for extra-fine atomisation even with high-viscosity thick paints.

View the Fence & Decking Sprayer in action here
---
SPEED
Sprayer vs Roller - paint in half the time

COVERAGE
Sprayer vs Roller - no need for a second coat
Categories that feature Wagner
Spray Guns
Wallpaper Strippers & Steamers