There is much debate over where and when the first Jigsaw was invented and sold, many mixed reports state that in 1946 a man named Albert Kaufmann, who worked for the Swiss company Scintilla AG, was the first to invent the electric jigsaw by putting a saw blade onto his wife's sewing machine. Although we can't confirm whether or not this was indeed the first time a saw blade was put onto an electrical machine to reciprocate in way that a jigsaw does nowadays, what we do know is that since the early prototypes technology has enabled the Jigsaw to be developed in many different ways and become an essential machine for all toolboxes.
With the right blade attached, jigsaws are capable of a variety of jobs in a wide range of materials from ripping and cross cutting in solid timber, man made materials and thin metals to intricate curves and internal shaped work in wood or similar material.
The selection of Jigsaws stocked by Toolbank is wide and varied, from occasional use machines all the way up to trade and professional versions with professional Jigsaws available in both 240 Volt and 110 Volt for on site use. The range of cordless Jigsaws is ever increasing with 14.4, 18, 28 and 36 Volt versions available. Whilst all Jigsaws will do the basics required, such as cutting curved lines and shapes, there is a vast difference in performance and quality with professional Jigsaws better able to perform these functions plus being able to cut straight lines quickly and smoothly with very little vibration and a cleaner cut.

Traditionally, changing the blade requires a screwdriver, but increasingly more jigsaws come with a tool-less blade change option and a number of Jigsaws are now also equipped with a laser line for easier straight line cutting guidance. Some Black and Decker models have an easy-to-use AUTO-SELECT System which selects the optimum speed and pendulum blade action according to the application.

Jigsaws with an orbital or pendulum action speed up cutting by moving the blade in a slightly circular motion - when using a normal jigsaw blade it cuts on the upward movement by moving the blade forward and then back on the downward movement - this increased cutting speed will give you a coarser finish. When precision cutting, plunge cutting or cutting metal is required the orbital action should be turned off. When making a straight cut use a slower cutting speed and a wider blade to prevent the blade from bending or pulling the saw off course.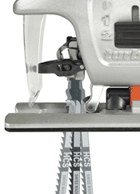 A Jigsaw with a bevel function allows angles typically up to 45° relative to the normal vertical stroke. Sometimes this functionality is implemented by loosening screws on the adjustable base plate, whereas more expensive models may have a quick release mechanism or even a quick set angle dial.