Milwaukee Hand Tools

THE MILWAUKEE® STORY CONTINUOUS INNOVATION FOR OVER 85 YEARS
Milwaukee® Tool is an industry-leading manufacturer of heavy-duty power tools, accessories and hand tools for professional users worldwide.
Since the company began in 1924, Milwaukee® Tool has led the industry in both durability and performance. With an unwavering commitment to the trades, Milwaukee® continues to lead with a focus on providing innovative, trade-specific solutions. Whether it is through their leadership in LITHIUM-ION technology, as seen in the M12™, M18™ & M28™ Systems, time-saving accessories or innovative hand tool products, Milwaukee® is dedicated to delivering a steady stream of advanced solutions for the trades that offer increased productivity and unmatched durability.
To do this, Milwaukee® takes the time to work side by side with real craftsmen to understand the demands of a constantly changing workplace and how they can best deliver solutions that help the user work both faster and smarter. Milwaukee knows that professional users sweat the small stuff, and so do they. They pay attention to the small details that make a big difference. This user focus not only leads to solutions for real jobsite challenges but fuels the disruptive innovation seen across all product lines.
Milwaukee® has made it their mission to focus on and design new solutions that make tradesmen on the jobsite more productive, regardless of whether the solutions are electrical or battery-powered, test equipment, accessories or hand tools. Their drive to improve workplace productivity continues to help push the envelope of innovation and design.
GAME-CHANGING HAND TOOLS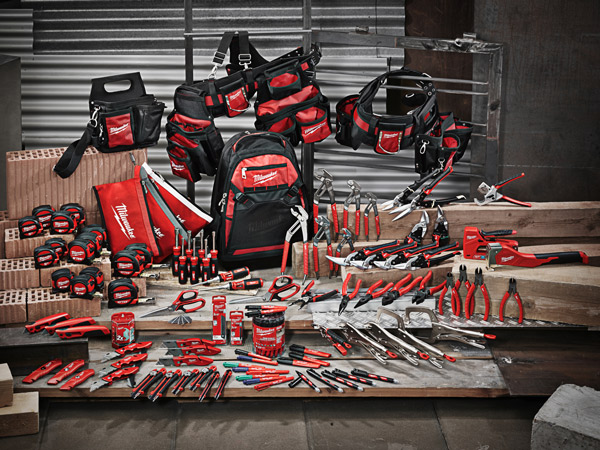 Logging hundreds of hours on the jobsite, Milwaukee® saw an opportunity to deliver innovation to its core users and launched an entirely new business unit in 2010 for Hand Tool solutions. With the same focused approach on understanding end-user requirements, each tool was completely designed and engineered by Milwaukee® to incorporate innovative features that provide application-specific solutions initially for the Electrical, Mechanical, HVAC, MRO and remodelling trades. Milwaukee's attention to innovation and user productivity set it apart from others in this space, as they completely redesigned tools that had been around for decades and provided new to the world features that would set a new standard for professional tradesmen.
Today, Milwaukee® has over 400 hand-tools in their range and are the FASTEST GROWING MANUFACTURER IN THE HAND TOOL INDUSTRY.
It is their drive for disruptive innovation and trade-focused spirit that have got them there, with one single objective in mind; giving end-users the best possible platform to get the job done.
Categories that feature Milwaukee Hand Tools
1/4in Drive Socket Sets
3/8in Drive Socket Sets
Adjustable Wrenches
Aviation Compound Snips
Basin & Tap Wrenches
Bolt Cutters - Centre Cut
Braces
Cable Cutters & Shears
Carpenter & Construction Gloves
Chalk Line Reels
Combination Pliers
Concreter's Nippers & Cutters
Deburring & Reamer Tools
Diagonal & Side Cutting Pliers
Drywall & Plasterboard Saws
Fall Arrest Equipment & Lanyards
Feather Edges & Screeding Levels
Flat, Long, Snipe & Needle Nose Pliers
Hacksaws & Blades
Insulated Cable Shears
Insulated Combination Pliers
Insulated Diagonal & Side Cutting Pliers
Insulated Long Nose Pliers
Insulated Sets
Insulated Slip Joint Pliers
Insulated Wire Stripping Pliers
Insulation & Plastic Cutting Saws
Junior Saws, Mini Hacksaws & Blades
Line, Pocket & Post Levels
Locking Clamps
Locking Pliers
Markers
Nutspinners
Pipe Cutters - Adjustable
Pipe Cutters - Plastic Tube
Pipe Wrenches
Pry & Wrecking Bars
Scissors
Screwdrivers Multi-Bit
Screwdrivers VDE
Spanners - Combination Sets
Spanners - Ratchet Head Sets
Tapes - Long Tapes
Tapes - Pocket Tapes
Tool Backpacks
Tool Bags
Tool Pouches & Work Belts
Toolboxes - PACKOUT™
Torpedo, Scaffold & Boat Levels
Water Pump, Multi & Slip Joint Pliers